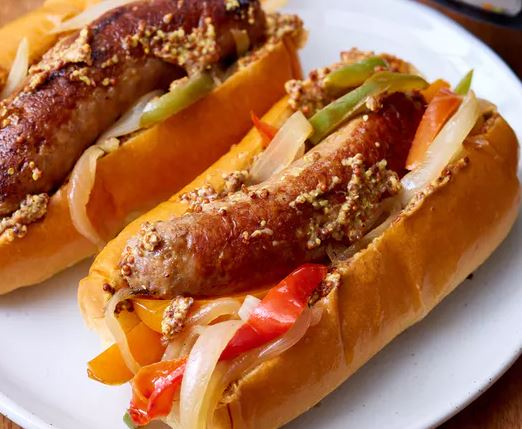 Ingredients
Serves 5 to 10
3 medium bell peppers, assorted colors, sliced 1/2-inch thick
1 medium yellow onion, thinly sliced
1 cup beer
2 tablespoons whole-grain mustard
Freshly ground black pepper
2 pounds uncooked Italian or bratwurst sausages
10 hot dog buns or small sandwich rolls (optional)
Instructions
Place the peppers, onion, beer and mustard in a 5-quart or larger slow cooker, then stir to combine. Place the sausages in an even layer over the pepper mixture. Cover and cook on the LOW setting until the peppers are tender and the sausages are cooked through, about 6 hours.
Using tongs, transfer the sausages to a serving platter. Using a slotted spoon, transfer the peppers and onions out of the liquid and onto the sausages. If serving on buns or rolls, split and toast before filling with sausages and peppers.
Recipe Notes
Storage: Leftovers can be stored in an airtight container in the refrigerator for up to 4 days.
Beer: I liked using a wheat beer for this recipe, but go with your favorite, as long as it isn't too bitter like an IPA.