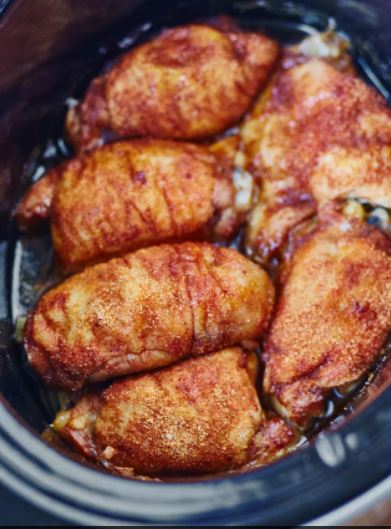 What You Need
Ingredients
1 teaspoonkosher salt
3/4 teaspoonsmoked paprika
1/2 teaspoongarlic powder
1/2 teaspoononion powder
6 to 8bone-in, skin-on chicken thighs (about 2 1/2 pounds total)
Equipment
6-quart or larger slow cooker
Measuing spoons
Small bowl
Fork
Instructions
Mix up the seasoning: Place the salt, paprika, garlic powder, and onion powder in a small bowl and whisk together with a fork.
Season the chicken: Coat the chicken thighs evenly on all sides with the seasoning mixture.
Place the chicken in the slow cooker: Place the chicken skin-side up in a single layer in a 6-quart or larger slow cooker. It is important that the chicken thighs are skin-side up, with some space between them. Overcrowding will result in soft, rather than crispy, chicken skin.
Slow cook: Cover the slow cooker, but leave the lid slightly askew — this allows venting. Cook on the LOW setting until tender and the internal temperature of the chicken registers 165°F, 6 to 7 hours.
Serve: Serve warm or pull the meat off the bones for tacos, sandwiches, etc.