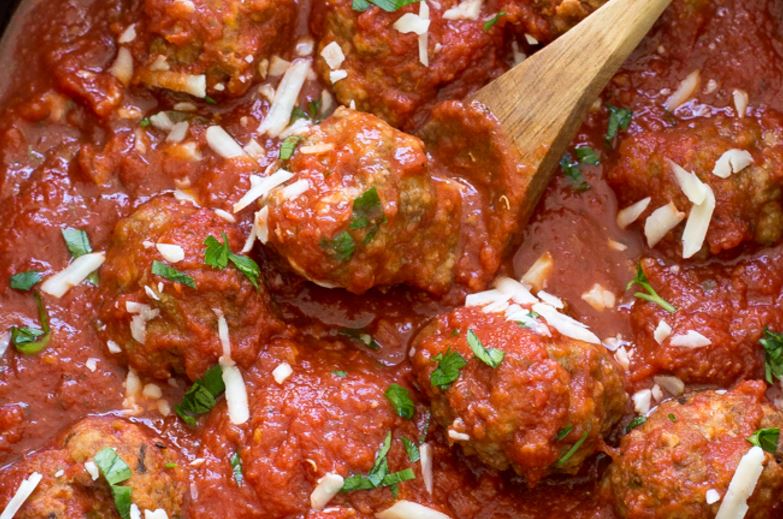 INGREDIENTS
1 pound ground beef
1 pound ground pork
¼ cup onion, minced
2 cloves garlic, minced
2 tablespoons parsley, chopped
1 cup Italian breadcrumbs
2 eggs
½ cup parmesan cheese, grated
salt and pepper
2 (24 ounce) cans crushed tomatoes
1 (6 ounce) can tomato paste
2 whole bay leaves
½ teaspoon crushed red pepper flakes
½ teaspoon Italian seasoning
salt and pepper to taste
basil for serving, if desired
parmesan cheese for serving, if desired
INSTRUCTIONS
Add beef, pork, onion, garlic, parsley, breadcrumbs, eggs and cheese to a large bowl. Sprinkle with a pinch of salt and pepper. Mix with your hands until combined.
Form into 1 or 2 inch meatballs. I made 24 meatballs.
Lightly grease a baking sheet. Broil meatballs on high until browned on each side. About 4-5 minutes on each side.
Add meatballs to slow cooker.
Top with crushed tomatoes, tomato paste, bay leaves, red pepper flakes and Italian seasoning.
Cook on low for 4 hours.
Season with salt and pepper to taste. Serve warm with basil or parmesan cheese for serving, if desired.