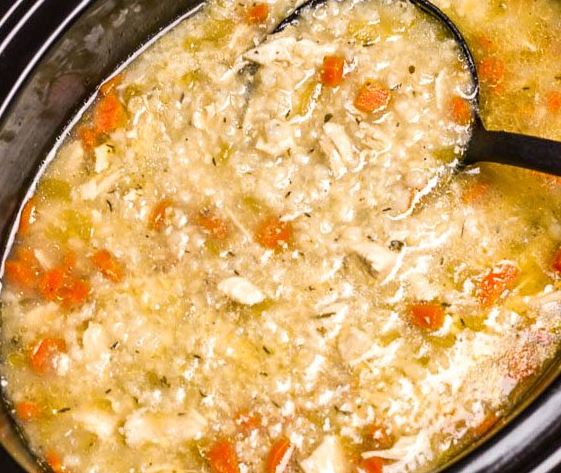 Slow Cooker Chicken and Rice Soup is an easy chicken soup recipe. All of the raw ingredients go in the slow cooker and a delicious soup awaits for dinner.
Servings: 8
Ingredients
3 chicken breasts, trimmed of fat and cut in half
1 cup brown rice
1 small onion, chopped
3 carrots, chopped
3 celery stalks, chopped
3 garlic cloves, minced
3 tsp salt
pepper to taste
2 tsp parsley
1 tsp thyme
1/2 tsp rosemary
1/2 tsp sage
1 bay leaf
2 tbsp butter, optional
9 cups chicken broth
Instructions
Place all ingredients in order in a slow cooker, except rice.
Cook on low for 4 hours. The rice absorbs the liquid and gets white and puffy. If you prefer the brown rice to maintain a more firm shape and texture, add it after 2 hours of cooking.
Thirty minutes before serving, remove the chicken from slow cooker and shred or cut into cubes.
Return chicken to the slow cooker, cook for thirty more minutes, and serve.
Alternate method
We've had some complaints about the rice being too mushy in the soup. The rice does absorb the liquid and becomes soft. You can see this in the recipe photo. I think it takes on the texture of a cooked pasta, which I think is good. The chicken, broth, vegetables, and spices in this soup are all delicious and cook beautifully in the slow cooker. If you are concerned about the rice, omit it from the slow cooker and stir in 2 to 3 cups cooked rice (brown, white, or wild) to the soup before you serve it.