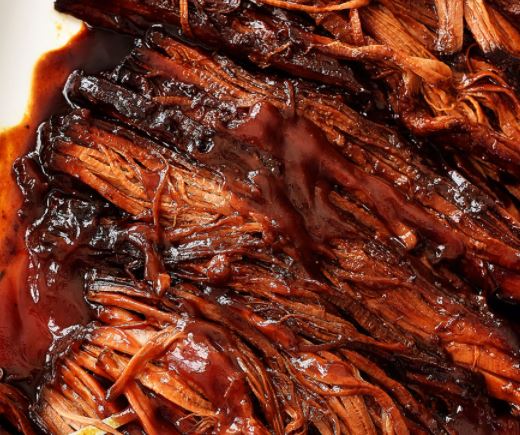 Prep time:  
Cook time:  
Total time:  
INGREDIENTS
2 to 3 pounds beef brisket
1 Tablespoon dried thyme leaves
1 Tablespoon paprika
2 teaspoons freshly ground black pepper
2 teaspoons salt
1 teaspoon onion powder
1 teaspoon garlic powder
½ teaspoon ground cumin
1 cup water
1½ teaspoons liquid smoke flavoring
3 Tablespoons Worcestershire sauce
1 (18 oz.) bottle barbecue sauce
INSTRUCTIONS
Combine the thyme, paprika, pepper, salt, onion powder, garlic powder and cumin in a small bowl.
Rub spice mixture all over the top of the brisket.
Pour 1 cup water in bottom of slow cooker. Place spice covered brisket over water. Pour the liquid smoke and Worcestershire sauce over top of brisket. Cover with lid and cook on Low heat for 12 hours.
Once done cooking, carefully remove brisket to a large platter. Remove fat from bottom of brisket. It should easily skim right off. Discard fat. Shred brisket.
Carefully (it will be hot!) pour whats left of water out of slow cooker.
Place shredded brisket back in slow cooker and pour barbecue sauce all over the top. Gently stir. Cover with lid and cook another 30 minutes or until sauce is heated through.
Serve brisket warm and enjoy!
NOTES
*For those wanting to cook this at a higher temperature for a shorter time, I do not recommend that. Cooking it for the 12 hours or longer makes it extra tender. Cooking brisket in a shorter time will result in a tougher and chewier brisket.