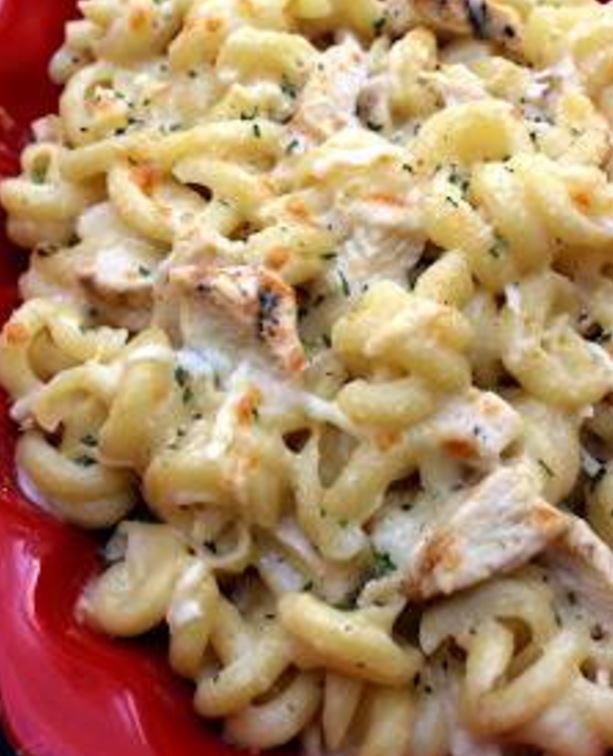 Ingredients
1lb of Fusilli Bucati Corti pasta or any noodle would really work, even fettuccine, boiled to al dente and drained
9 tablespoons butter
4 ½ tablespoons flour
1 can (14.5 ounces) chicken broth
½ cup half-and-half
1 cup + 2 tablespoons grated Parmigiano-Reggiano
1 cup + 2 tablespoons grated Gouda cheese
1 cup + 2 tablespoons grated sharp white cheddar cheese
6 ounces of mascarpone cheese
10 ounces of cooked chicken breast, sliced or cubed, I like grilled chicken
3 tablespoons grated Parmesan cheese for topping
Directions
Heat oven to 350. Spray baking dish, square 9×9 or oval dish, with cooking spray. Cook pasta as directed and drain.
Melt butter in a saucepan over medium heat. Stir in flour. Gradually stir in broth. Heat to boiling, stirring constantly; reduce heat to low. Stir in mascarpone, white cheddar cheese, Gouda, parmesan and half-and-half. Allow all cheese to melt and meld together while continuously stirring. Once completely mixed together and cheese is melted, stir in chicken.
Add pasta to chicken mixture; toss gently to mix well. Spoon into baking dish. Sprinkle with cheese. Bake uncovered about 15-25 minutes or until hot in the center.