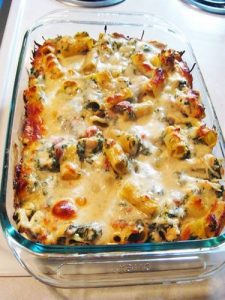 The Spinach & Chicken Pasta Bake recipe is also great to take to new moms, someone who is sick and needs some cheering up or to serve at a dinner party because it has a nice presentation, is filling and usually there are leftovers to enjoy.
Not only does this recipe look pretty in a casserole dish for serving, but it makes your whole house smell warm and inviting.
I love this dish for company because you can cook & chop the chicken as well as cutting up several other ingredients in advance plus it has beautiful presentation.
This recipe is my go to for bringing to friends and family when they need a good casserole. Last time I made it, I substituted the noodles for whole wheat and I've even omitted the onion for nursing mommies. You really can't go wrong with this recipe!
Click Next Button Below for the Full Recipe