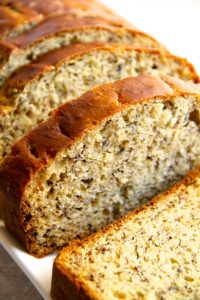 Banana bread is a staple in our house. It makes a great school snack. It is delicious breakfast spread with butter. It doesn't have a lot of ingredients. So easy my 12 year old makes it.
Learn how to make our easy healthy banana bread with applesauce.
Your perfect banana bread should be moist. Have glossy and sticky top. And with a crack.
When you take a bite it melts in your mouth. In my world, it is the best healthy banana bread. And you are looking at it right now!
My Healthy Banana Bread Recipes Is:
Simple
Incredibly moist
Perfectly sweet
Contains no sugar
Is Banana Bread Healthy?
Well. Where do I begin?! I think everyone has their own definition of "healthy". And I think my banana bread recipe is healthy for the following reasons. If you don't eat entire loaf in a day.:)
Natural sweetener like maple syrup or honey replaces refined sugar.
Applesauce replaces almost a cup of oil. It makes banana bread moist.
Whole wheat flour adds fiber, nutrients and vitamins unlike the all-purpose flour stripped of everything that's good for us.
Click Next Button Below for the Full Recipe