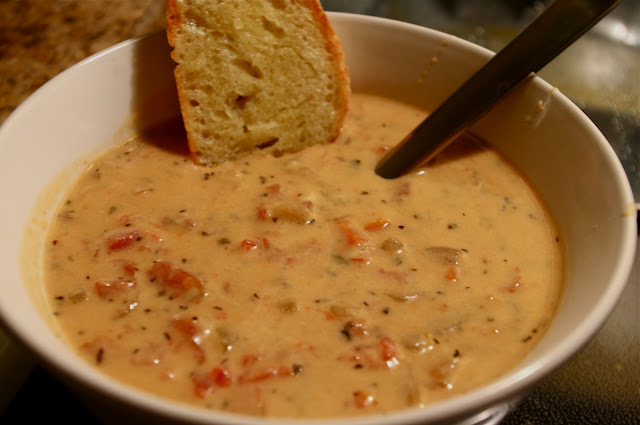 INGREDIENTS
2 (14 oz) cans diced tomatoes, with juice
1 cup finely diced celery
1 cup finely diced carrots
1 cup finely diced onions
1 tsp dried oregano or 1 T fresh oregano
1 T dried basil or 1/4 cup fresh basil
4 cups chicken broth
½ bay leaf
½ cup flour
1 cup Parmesan cheese
½ cup butter
2 cups half and half, warmed (I would go with only a cup and a half though)
1 tsp salt
¼ tsp black pepper
DIRECTIONS
1. Add tomatoes, celery, carrots, chicken broth, onions, oregano, basil, and bay leaf to a large slow cooker.
2. Cover and cook on LOW for 5-7 hours, until flavors are blended and vegetables are soft.
3. About 30 minutes before serving prepare a roux. Melt butter over low heat in a skillet and add flour. Stir constantly with a whisk for 5-7 minutes. Slowly stir in 1 cup hot soup. Add another 3 cups and stir until smooth. Add all back into the slow cooker. Stir and add the Parmesan cheese, warmed half and half, salt and pepper. Add additional basil and oregano if needed (the slow cooker does a number on spices and they get bland over time, so don't be afraid to always season to taste at the end).
4. Cover and cook on LOW for another 30 minutes or so until ready to serve.