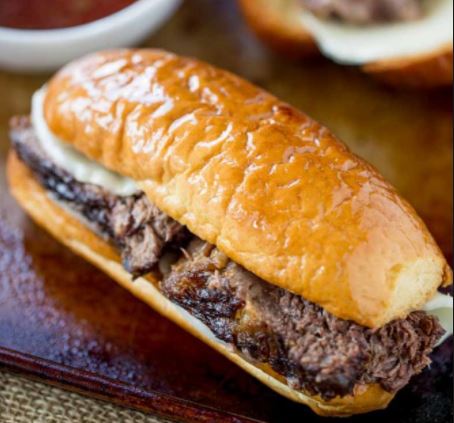 INGREDIENTS:
4-5 pounds chuck roast
2 tablespoons canola oil
1 teaspoon Kosher salt
1/2 teaspoon coarse ground black pepper
1 cup beef broth
1 tablespoon Worcestershire Sauce
1 can beer (I like a dark beer)
1 yellow onion, diced
6 hoagie rolls
2 tablespoons butter
12 slices Provolone Cheese
DIRECTIONS:
In a large dutch oven, or if you have an aluminum insert for your slow cooker add the canola oil and heat on high.
Add the Kosher salt and pepper to your chuck roast.
Brown on both sides aggressively (3-5 minutes on each side).
Don't move the beef before flipping (this lets the meat get a deep crust).
In a slow cooker add the meat, any meat juices from the pan, beef broth, Worcestershire sauce, beer and onions.
Cook on low for 6 hours.
Remove the meat and slice thickly.
To assemble, butter your hoagie rolls and toast.
Top with provolone cheese.
In a small bowl add a cup of the liquid from the slow cooker and dip the sandwich in the bowl.