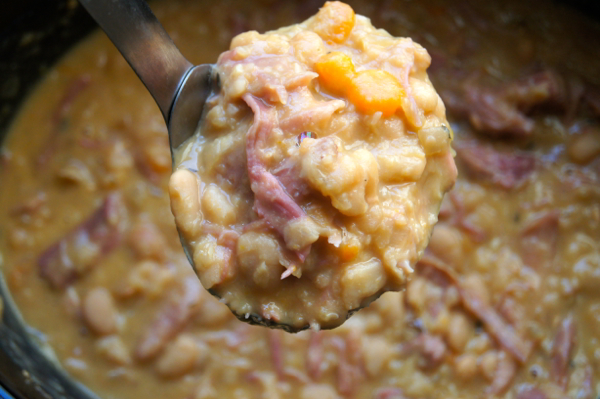 INGREDIENTS
1 pound navy beans (or Great Northern beans)
1 large onion, diced (about 1 ¾ cup)
3 celery stalks, diced (about 1 cup)
1 medium carrot, diced (about ½ cup)
2 cloves garlic, minced
1 bay leaf
1 large smoked ham hock (or ham bone)
Water
1 teaspoon Italian seasoning
1 cup chopped ham
Salt and pepper, to taste
INSTRUCTIONS
Soak the beans in water (the water should rise a few inches above the beans) overnight. Drain beans before ready to cook.
Add the beans, onions, celery, carrots, garlic, bay leaf and ham hock to the slow cooker.
Fill the slow cooker with water until just barely covering the beans.
Cover and slow cook for 5 ½ -6½ hours on high, or 7 ½ -8½ hours on low until beans have softened and begin to fall apart.
Remove the ham hock or bone from the slow cooker and strip off any meat. Chop and add the meat to the slow cooker along with the Italian seasoning, remaining chopped ham, salt and pepper.
Cover and cook for another 30 minutes.
NOTES
Top the soup with sliced green onions and serve with a crusty slice of sourdough bread for the ultimate comfort food!