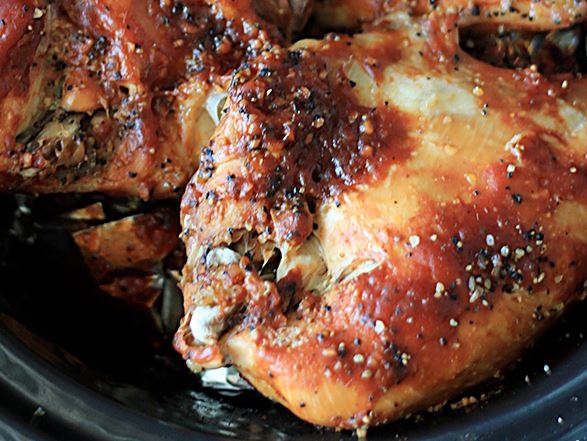 Prep time:  
Cook time:  
Total time:  
Serves: 4
Easy and delicious Slow Cooker BBQ Chicken.
Ingredients
3 large bone-in, skin on chicken breasts about 6 pounds
2 tablespoons of all-pupose steak seasoning
3 tablespoon of brown sugar
1 cup of BBQ sauce
Instructions
Create 3-4 large foil balls to fit in the bottom of slow cooker.
Remove skin from chicken breast, and season each with steak seasoning and brown sugar.
Arrange chicken breasts on top of foil ball, and pour BBQ sauce over.
Cook on high for about 4 hours, or until chicken reaches 165 degrees. It's important to use a meat thermometer as cooking times will vary!
Chicken breasts can be served whole with juices from slow cooker poured over, or shred chicken and pour the slow cooker juices back over.