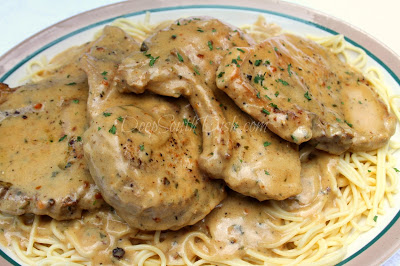 Angel Pork Chops is an incredible dish. Is the best Slow cooker pork chops I've ever made. This Recipe is full of amazing flavor! This pork chops are cooked in a cream cheese sauce and served over angel hair pasta.
Preparation time: 10 mins | cooking time: 8 hour | total time: 8 hours and 10 mins
Ingredients:
5 boneless pork chops
1 "0.7-ounce" Zesty Italian dressing mix
4 ounce cream cheese
3 Tablespoon butter
1 "11-ounce" can cream of chicken soup
3/4 cup chicken broth
1/2 lbs cooked angel hair pasta
Directions:
In slow cooker Place the pork chops
Combine Italian dressing mix, with the rest of ingredients except anger hair pasta and Pour over pork chops.
Cook on LOW for 7-10 hours.
Finally serve over cooked angel hair pasta.
This Recipe adapted from plainchicken.
Please make sure to Like and share this Recipe with your friends on Facebook and also follow us on facebook and Pinterest to get our latest Yummy Recipes.