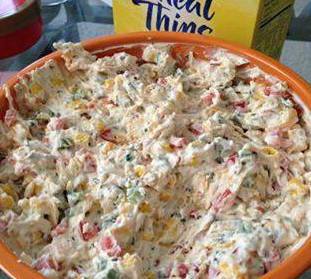 Ingredients:
1 red pepper
2 jalapenos (unseeded)
1 can of corn
1/2 can diced olives
16 oz cream cheese (softened) 1 packet Hidden Valley Ranch dip seasoning mix( you can also use fat free plain greek yogurt instead of cream cheese)
Instructions :
Mix ingredients together. Serve with crackers or raw veggies.
Easy and delicious!