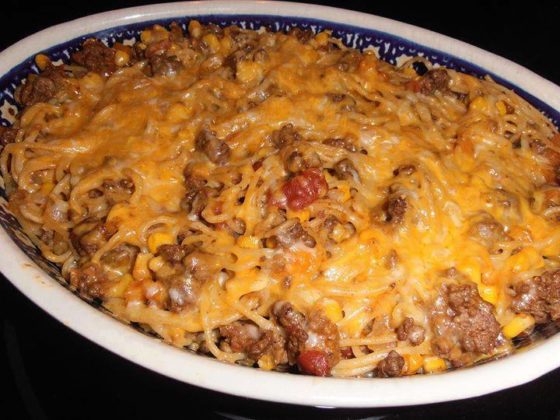 INGREDIENTS:
6 oz. thin spaghetti
1 lb. ground beef
1 small onion, chopped
1/2 bell pepper, chopped (I only had orange but any would work)
1 small can of whole kernel corn, drained
1 pkg. taco seasoning
3/4 C. water
1/2 C. salsa, I used a little more
1 1/2 C. shredded Colby jack cheese
DIRECTIONS:
Bring a pot of water to a boil and cook spaghetti according to pkg. directions. Meanwhile, brown ground beef in a large skillet, drain grease and add in the onion and peppers. Cook till onion becomes tender. Add in taco seasoning and the water, stir well. Add in the salsa, corn and strained pasta. Combine well and then add 3/4 C. of the cheese. Toss to combine well and pour into a lightly greased baking dish. Top with remaining cheese and bake at 350 degrees for 10-15 minutes or until cheese is bubbly. Serve with shredded lettuce and tortilla chips.