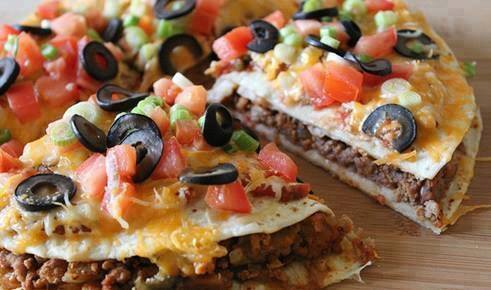 This only makes 1 tortilla size pizza so if you are making for several, be sure to double or triple your recipe!
Ingredients:
Approx 1/2 lb ground beef or ground turkey
1/2 TBSP taco seasoning
1/4-1/2 cup re fried beans
1/4-1/2 cup salsa ( jarred or homemade)
1/4-1/2 cup shredded cheddar cheese (or your desired flavor)
2- 4in flour tortillas
your choice of toppings, ex: tomatoes, green onions, olives

Directions:
Preheat oven to 350 degrees. Brown ground beef in skillet. Add in taco seasoning. Drain if needed. Spray baking sheet with non stick cooking spray. Lay one tortilla on sheet. Spread with beans, then, with meat. Cover with second tortilla. Bake for 10 minutes. Remove from oven. Spread top tortilla with salsa, then, top with cheese and desired toppings. Bake an additional 5-10 minutes or until cheese is melted completely. Cool slightly before cutting.