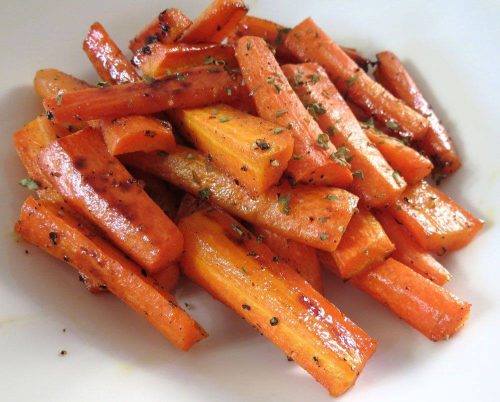 When I realized how easy it is to roast vegetables, I started making these carrots several times a week! They are so delicious and I haven't grown tired of them yet!!
Ingredients:
2 tablespoons olive oil
2 tablespoons honey
2 tablespoons maple syrup
1/2 teaspoon garlic powder
1/4 teaspoon onion powder
1/4 teaspoon thyme
1/4 teaspoon oregano
Kosher salt and freshly ground black pepper, to taste
1 (16-ounce) package carrots cut into pieces
2 tablespoons chopped parsley leaves
Directions:
Preheat oven to 450 degrees F. Lightly oil a baking sheet or coat with nonstick spray.
In a small bowl, whisk together olive oil, honey, maple syrup, garlic and onion powder, thyme and oregano.
Season with salt and pepper, to taste.
Place carrots in a single layer onto the prepared baking sheet.
Add olive oil mixture and gently toss to combine.
Place into oven and bake for 15-18 minutes, or until tender, stirring occasionally.
Serve immediately, garnished with parsley, if desired.
Nutrition Facts
Servings Per Container 6
Amount Per Serving
Trans Fat 0g
Sugars 13.1g