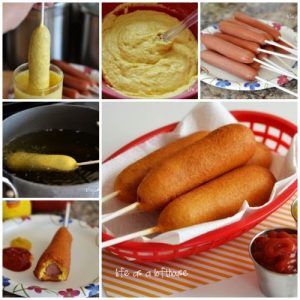 Being the foodie that I am, it probably comes as no surprise that my fondest memories are built entirely around food. I could easily build whole vacations around finding iconic eats to try. In fact, even when I went to Disneyland, I only had eyes for one goal:
To hit every booth, stall, and food cart I could find.
And on one of these trips to the magic kingdom, I found myself standing in front of a little red food cart, ordering what was fabled to be "the best hand dipped corn dogs ever. "
Which, of course, they totally were the best corn dogs I had ever had. Nothing beats that golden brown breading fresh out of the fryer.
So, naturally, once I had returned from the happiest place on earth, I knew I had to find a way to recreate a similar experience at home.
I crave their corn dogs every now and then, so I decided it was time to try making some at home. They turned out unbelievably delicious! I don't own a deep fryer, so I just used a medium pot to deep-fry the corn dogs in. Although it seems a little intimidating, they were really easy to make.
Click Next Button Below for the Full Recipe