Copy-cat Ho Ho Cake recipe tastes amazing! This recipe is so simple to make and tastes amazing! Takes your boxed cake recipe to an amazing level!
Are you looking for a quick dessert to make but don't want to make just another boxed cake? This recipe is perfect and takes a regular boxed cake and makes it extra yummy!! If you'd ever had a Ho Ho you'll love this one! Same thing but bigger and better! Chocolate cake with creamy whipped filling and chocolate icing poured over the top!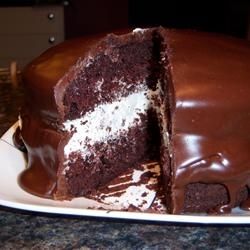 I have seen other recipes on the internet that call for quite a few steps and ingredients, this is definitely much easier then those. This recipe is so simple even the older kids can make it by themselves. I always like finding recipes that the kids can make because they like to do everything themselves. No help from Mom needed. This is a great choice for them to make!
You could also make this using a chocolate cake made from scratch but I usually like to save time and use the boxed version.
Click Next Button Bellow for Full Recipe