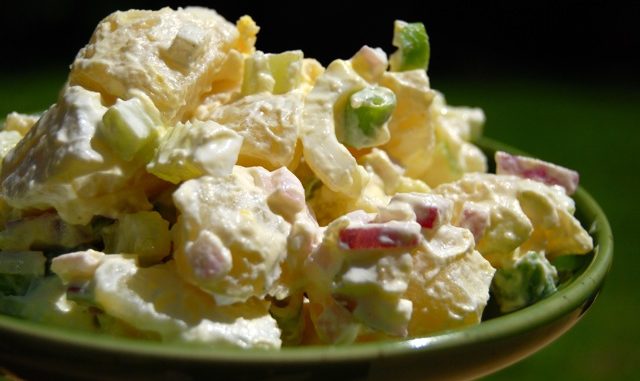 Ingredients
Salad
6 medium red potatoes (2 lb), unpeeled
2 hard-cooked eggs, chopped
2 medium stalks celery, thinly sliced (1 cup)
1 medium onion, chopped (1/2 cup)
Dressing
3/4 cup reduced-fat mayonnaise
1/2 cup fat-free sour cream
1 tablespoon yellow mustard
1 teaspoon cider vinegar
1/2 teaspoon salt
1/4 teaspoon pepper
Directions
Place potatoes in 4-quart saucepan; add enough water just to cover potatoes. Heat to boiling. Reduce heat to low; cover and simmer 20 to 30 minutes or until tender. Drain; let stand until cool enough to handle. Cut potatoes into cubes.
In large bowl, place potatoes, eggs, celery and onion; toss gently to mix. In small bowl, mix dressing ingredients until well blended.
Add dressing to potato mixture; toss gently to coat. Cover; refrigerate at least 1 hour or until serving time.