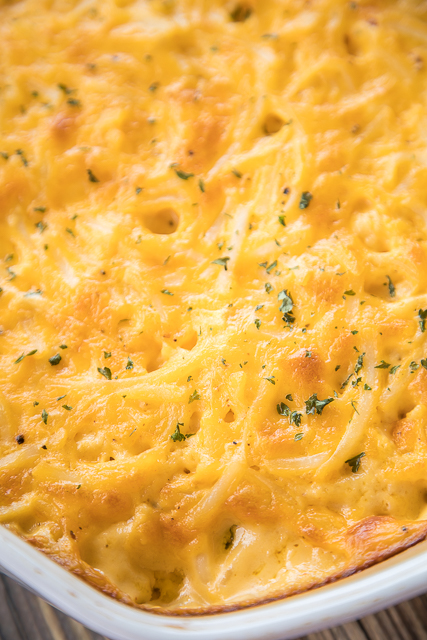 Stop what you are doing and make these Delmonico Potatoes. They are simply AMAZING. I made these last week and Chicken Legs has already requested them again this week. They are that good.
These Delmonico Potatoes are different from your everyday potato casserole. First, there is no cream of anything soup. Secondly, the potatoes are topped with a quick homemade cheese sauce. The cheese sauce is EVERYTHING! I could pour it on almost anything and love it!
These Delmonico Potatoes can be made ahead of time and refrigerated until you are ready to bake them. They are perfect with everything – grilled chicken, pork chops, steaks, anything! They are also great leftover. They tastes just as good the next day for lunch!
This is our new "go-to" potato casserole for the moment. It will take a really good recipe to top this one! YUM!
Yield: 8 To 10
prep time: 10 MINScook time: 60 MINStotal time: 70 mins
INGREDIENTS:
1 (32-oz) package frozen shredded hashbrown potatoes, thawed
1 cup milk
1 cup heavy cream
1 tsp dry mustard
1 tsp salt
1/4 tsp garlic powder
1/4 tsp black pepper
4 cups shredded cheddar cheese
INSTRUCTIONS:
Preheat oven to 350º F. Lightly spray a 9×13-inch pan with cooking spray. Spread potatoes in prepared pan. Set aside.
In a large saucepan, combine milk, heavy cream, dry mustard, salt, garlic powder and black pepper. Add cheese and cook over medium-low heat until cheese melts.
Pour cheese mixture over potatoes.
Bake, uncovered, for 1 hour.