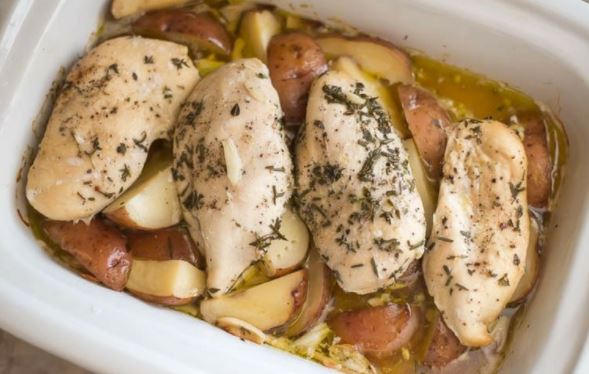 PREP TIME: 10mins 
|
COOK TIME: 4hrs
SERVES: 6
INGREDIENTS
CHICKEN RECIPE INGREDIENTS:

1 3- to 3 ½- pound whole broiler-fryer chicken
¼ – ½ cup olive oil
2 clove garlic, minced
1 tablespoon dried oregano, crushed
1 tablespoon dried basil, crushed
1 teaspoon dried rosemary, crushed
Salt
Pepper

OPTIONAL POTATO RECIPE INGREDIENTS:

5-8 red potatoes, quartered
¼- ½ cup of olive oil
2 cloves garlic, minced
5 shakes dried oregano
5 shakes dried basil
Hand full rosemary, crushed
Salt
Pepper
INSTRUCTIONS
CHICKEN RECIPE DIRECTIONS:

Rinse chicken inside and out; pat dry with paper towels. Place chicken on plate; set aside.
In a small bowl, stir together olive oil, garlic, oregano, basil, salt, and paper. With basting/pastry brush, spread mixture all over bird. Transfer bird to Crock-Pot. Cook on high for 4-5 hours or on low for 8-10 hours.

OPTIONAL POTATO RECIPE DIRECTIONS:

In a large Ziploc bag or large bowl, add potatoes, olive oil, garlic, herbs, and spices; mix. Transfer potatoes to Crock-Pot, and pour over bird. Cook with bird as directed above.