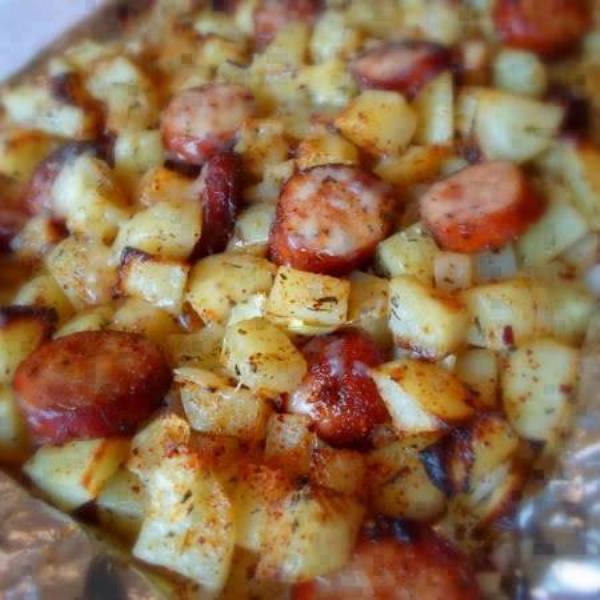 Ingredients
1 package (16oz) of smoked sausage (Peel if necessary, and slice into rounds)
1 large onion, peeled and chopped
5 large potatoes, peeled and chopped into 1/2 inch cubes
1 Bell Pepper – sliced into small pieces (optional)
1/2 Cup shredded Cheddar Cheese (or more if you want)
2 tbs olive oil
1/2 tsp dried thyme
1/2 tsp Paprika (optional)
Salt and Pepper (to taste)
Directions
Preheat the oven to 200C/400F/
Line a large baking tray (with sides) with foil.  Use cooking spray or drizzle oil onto the pan to keep from sticking.
Toss everything EXCEPT the cheese, into a bowl and combine well.
Pour this out onto the baking tray, and spread it out as much as you can.
Bake for 45 minutes to an hour, stirring every 15 minutes or so, until the potatoes are golden brown.
Turn off the oven. Sprinkle the cheese over top of the cooked meat and potatoes, Pop back into the oven a few minutes to melt the cheese.